Dance Hits Party 2012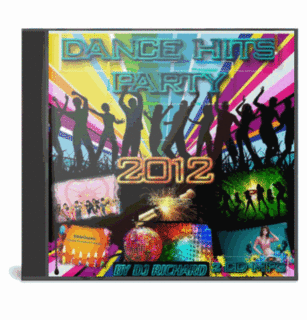 CD 1
1. Adrian Eftimie.Lonely (Andeeno Damassy Remix)
2. Alex Saidac – All Night
3. Andeeno Damassy Feat. Natalia Kills.Mirrors 2012 (Club Mix)
4. Astero & Inusa Dawuda-I Don´t Know (Dj El-House Club Radio Remix)
5. Ava Rocks – Heart On The Dancefloor
6. Bryan Wilson & Sebastian Crayn.Happy People
7. Davay Derzhat´sya za Ruki (Valentine Khaynus remix)
8. David Deejay ft. P Jolie & Nonis.Perfect 2 (Club Mix 2011)
9. Dj Wosky Presenta. Locura Ft Yaiko El Prototipo – Chica ideal (Remix Octubre 2011)
10. DJ_Ñêàé -I like You Want Me [bootleg mix]
11. Don Omar Feat. Lucenzo.Danza Kuduro (Gordon & Doyle Love B-t-h-s 3x Bootleg Mix)
12. Eddy Wata – Senorita (Ago Carollo Radio Edit)
13. Flo Rida – Good Feeling (Carl Tricks Rap Remix)
14. Galveston Bay feat. Pernille Georgi – Matter Of Time (Sax On The Beach Mix)
15. Hallux & Nuno Fernandez Feat. Marcus.Bem Gostosinho (Mulher Solteira)
16. Hi-Tack & Chistopher S – Say Horny (Refined Brothers Booty)
17. Jennifer Lopez.Papi (JNX & Alex Gaudino & Jason Rooney Club Mix)
18. Joe Cocker & Deep Zone.Unchain My Heart (Bootleg Remix)
19. Jonathan La Voz Transparente &
20. KTF. the life house project exclusive mix.
21. Liviu Hodor feat Mona Sweet Love (Dj Darkt)
22. Marcos Rodriguez feat. Sasha David – Jump (Extended Mix)
23. Mike Candys,Jack Holiday,Chistopher S – La Disco Loca vs insomnia (Refined Brothers Mash-Up)
24. Mirami_feat._VovaZiL(MiMp3.net)
25. Mossano Zingarinho (by David Deejay)
26. Nitro Feat Ines-Believe (Extended Mix)
27. R.I.O. Feat. U Jean.Turn this Club Around.
28. Refined Brothers – Lambada 2011 (Original Horny Mix)
29. Sasha Lopez BroonoAll my people (Andeeno Damassy Remix)
30. Selena Gomez & The Scene – Love You Like a Love Song (DFM Remix)
31. Selena_Gomez_(MiMp3.net)_4
32. Slin Project & Christopher S .Feel The Energy (Vova Baggage Remix)
33. Stanislav Shik – Say Make (Refined Brothers Remix)
34. Stereosonic We Rollin Andeeno Damassy Remix)
35. Taio Cruz.Hangover Flo Rida (FULL NoShout) (2011
36. The Glam Feat. Flo Rida, Trina & Dwaine.Party Like A DJ (David Maymix)
37. Verona – Up To The Stars (Radio Edit`EPlanet)
CD 2
1. 2Hillz feat. Dikla Elias – All World (Club Mix)
2. Akon Right Now '11 (CPS aka. ClubPulsers Bootleg Mix)
3. Allexinno & Starchild.Senorita (Andeeno Damassy Remix)
4. Anya & Andeeno Damassy – Your Voice (Radio Edit)
5. Aqua-No Party Patrol
6. Bob Sinclar feat. Colonel Reyel & Mr. Shammi – Me Not A Gangsta (Club Version)
7. Chandler Pereira feat Refined Brothers Your Love Her
8. Dj groove-team dance in the house remix club edit.
9. Dj Stanislav Shik-Say Make (Refined Brothers Remix)
10. DJ_MEG i Karina Koks Tam_gde ty
11. DJTOON Boney M Tribute Mix
12. Ela_Rose_feat_David_DeeJay I_Can_Feel_(Radio_Version)
13. E-Partment feat. Kandy – Hang On (Shaun Baker Remix)
14. Flo Rida Good Feeling (Dj Ingo MiMp3.net)
15. G-Spott – No Comment (Club house remix)
16. Hi-Tack vs Chistopher S.Say ´Horny´ (Refined Brothers Booty)
17. JLS Teach Me How To Dance.
18. Johan K – We Are (Will.F´reitas Original Mix)
19. Lucky Man Project
20. Marcus.Bara Bara (Makenzo Remix)
21. Mc Roni – Ai Se Eu Te Pego (Mario Rios Remix) [Especial Reggaeton]
22. Morena feat J Warner ft Tom Boxer – Deep In Love (Denis First & Vladlen Reznikov ft. P.Portnov Remix)
23. Must Bryan Wilson Conceicao Sebastian Crayn
24. Nick Kamarera & Mike Diamondz (Feel The Music)Kalya (Andeeno Damassy Remix
25. Paki, Jaro, Emanuel Nava – Caminando (Club Mix)
26. Reel 2 Real feat. Sean Paul, Pitbull, Flo Rida And T Pain – I Like to Move it (Electro Urban Remix)
27. Refined Brothers feat. Chandler Pereira – Your Love (Tony Tweaker Goes Mad Remix)
28. Serebro – Davay derjatsya za ruki (Dj Oleg Perets & Dj Alexey Galin Remix)
29. Sins Of Sound-Mirame feat. Mc Y2K (Original Mix)
30. Steel Deluxe.Chupa – Chups remix
31. Swedish House Mafia vs. Tinie Tempah , Miami 2 Ibiza (DJ Artur Morozov Rework_2011)
32. Taio Cruz feat. Flo Rida.Hangover (RNBxBeatz Extended Demo)
33. Tom Boxer & Morena feat J Warner – Deep In Love (Denis First & Vladlen Reznikft. P.Portnov Club Remix)
34. Voxis .Tell me everything (JulyanDubson &_K)
35. Voxis I Just Wanna (Radio Edit))
36. Whiteside & Jorge Martin S.Whiteside & Jorge Martin S – Party People (Refined Brothers Remix)